A £2 coin to commemorate the event which changed the world
There are few more sombre commemorative coins in circulation than the 2007 £2 coin.  Issued to mark the 200th Anniversary of the act for the Abolition of the Slave Trade, it is one of the most surprising and thought provoking coins you are likely to find in your change.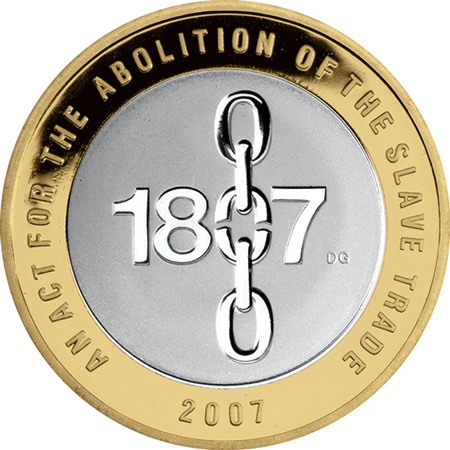 The UNESCO's International Day for the Remembrance of the Slave Trade and its Abolition is marked in August each year as a day to reflect on an unfortunate and shameful passage of history which should never be repeated, and also a be thankful for the better times we live in today.
It's sometimes difficult to imagine a barbaric world where people were sold into slavery, but in the 17th and 18th centuries it was an accepted and unquestioned part of Britain's growing imperial and naval supremacy.
However, there were those who objected to the whole slavery enterprise.  Groups of Quakers began campaigning tirelessly in the late 18th century and won the support of an MP named William Wilberforce.   Through mass petitioning and increasing national support for their cause, he was able to exert substantial pressure on the government.
As a result, Parliament passed the Act for the Abolition of the Slave Trade in 1807 and significantly altered the progress and development of the transatlantic slave system. Although it did not abolish slavery itself, it prohibited trafficking and was a major step towards the total abolition of slavery across the British Empire in 1833.
Look out for this £2 in your change, and it may well make you stop and think for a moment about William Wilberforce and the powerful change for good he made in the pre-Victorian era.
---
The 2007 £2 Coin:
An act for the Abolition of the Slave Trade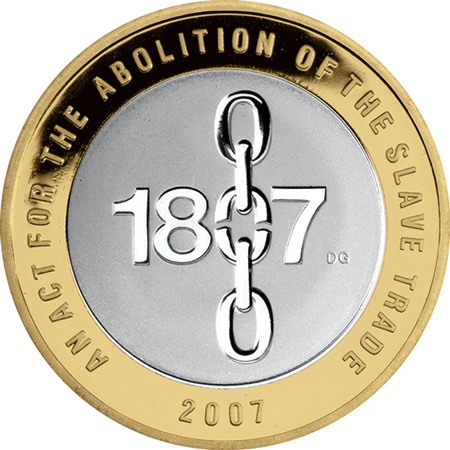 The Act for the Abolition of the Slave Trade was one of the most momentous Acts of Parliament in history and to celebrate its bicentenary in 2007, this commemorative 'Abolition of Slavery' £2 was issued.  The reverse features a striking and imaginative design by David Gentleman with the '0' of the date 1807 depicted as a broken chain link.
You can find this coin and every other commemorative coin in circulation on the Change Checker App.