This 50p just sold for £820.00
Finding a coin which is worth a small fortune is the stuff of dreams for every Change Checker. You may remember the excitement over the rarity of the Kew Gardens 50p earlier this year and the bidding frenzy that occurred on eBay shortly afterwards.
Well now there is a coin which has eclipsed the Kew Gardens, both in terms of scarcity, and the sheer scale of money changing hands.
This week, a UK 50 pence piece sold on eBay for £820. Or to put it another way, 1,640 times its face value!
It appears to be an ordinary Aquatics Olympic 50p at first glance, but this coin has a special quality which collectors desire more than anything else: an error.
And the good news is, there are more out there to be found!
In 2011 the Aquatics Olympic 50p depicting a swimmer underwater was redesigned by the Royal Mint to make the swimmer's face more visible.  However, before the change was made, a small number of coins were struck with the original design.
The added sense of excitement and anticipation over this particular error is that nobody knows exactly how many of the original coins were ever struck.
Their rare appearance at auction (and only so far in their original packaging) along with the astronomical amounts which buyers are happy to pay, supports the theory that there are very few around.
The 29 Olympic designs are now commonplace in our day-to-day life, so this coin ultimately is just a normal 50p which you would happily pass over the counter to pay for something.  Blink and you would miss that small detail which is worth so much to coin collectors.
But the Aquatics Olympic 50p error is the latest example of why you should always carefully check what's in your change – there really could be treasure hidden in your pocket!
---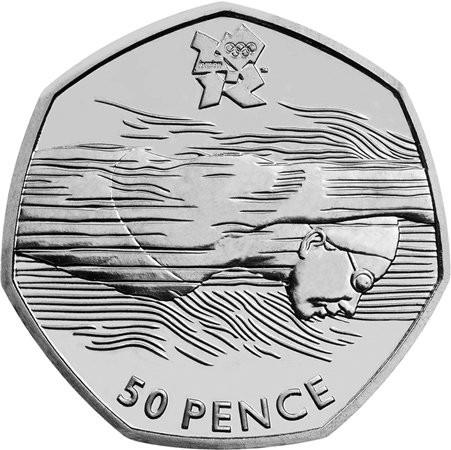 Do you have an Aquatics Olympic 50p?
You can add it to your collection on the Change Checker App here