Why Jemima Puddle-Duck is already the most sought after Beatrix Potter 50p
When The Royal Mint released the mintage figures for the 2016 Beatrix Potter 50p Coins, what immediately caught the attention of collectors was the minimal amount of Jemima Puddle-Duck coins that had been struck compared to the rest of the series.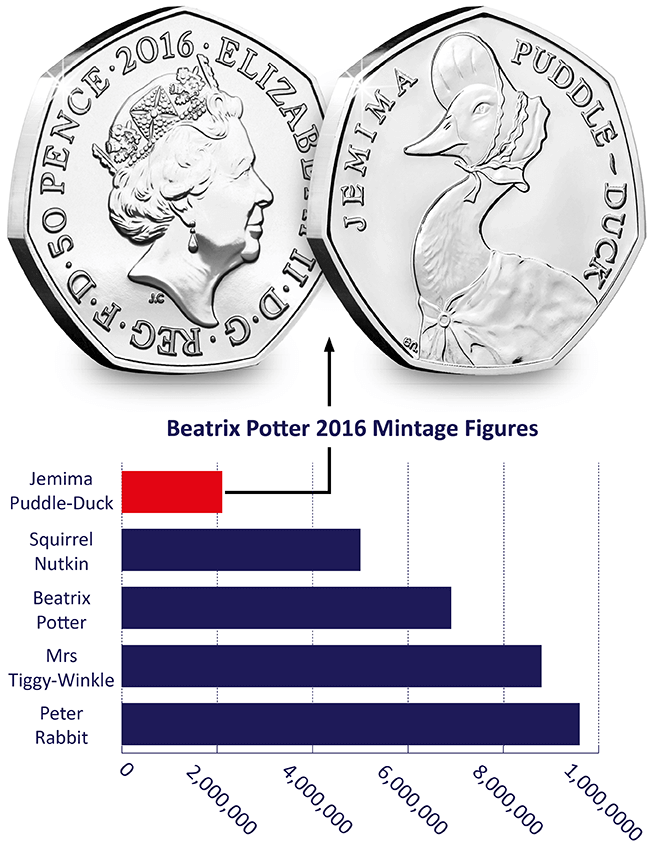 Only 2.1 million Jemima Puddle-Duck coins were released into circulation, that's less than 20% of Peter rabbit and half the amount of Squirrel Nutkin which has the 2nd lowest mintage.
When one coin in a series has a much lower mintage figure, collectors struggle to complete the set. We've started to see evidence of this as swap requests from our Swap Centre users have increased dramatically.
Swap Ratio
For every one Jemima Puddle-Duck coin we see listed as available to swap, there are more than 8 users requesting this coin.  
The rarity of this coin is also highlighted by our Scarcity Index.
---
If you're interested in coin collecting, our Change Checker web app is completely free to use and allows users to:
– Find and identify the coins in their pocket
– Collect and track the coins they have
– Swap their spare coins with other Change Checkers
Sign up today at: www.changechecker.org/app