Brand new 2018 Beatrix Potter 50p coins announced!
After the unbelievable success of the 2016 and 2017 Beatrix Potter 50p series, many people would've been hoping for, perhaps even anticipating, more coins in 2018.
Well, I'm delighted to tell you that another four Beatrix Potter designs have just been announced by The Royal Mint!
The best news is that the 2018 Peter Rabbit 50p is available to order in BU quality TODAY!
So, without further ado, let's take a look at the delightful characters that'll grace the 2018 Beatrix Potter 50p series:
Peter Rabbit

This is the third Peter Rabbit 50p to be released by The Royal Mint and is the only character to feature in each of the Beatrix Potter series.
The 2018 design show an iconic image of Peter Rabbit munching on radishes, the reason for his near-miss in Mr Mcgregor's garden!
Flopsy Bunny

Flopsy Bunny is the next character in the 2018 series. She is, in fact, married to Benjamin Bunny who featured in the 2017 series.
The design for Flopsy Bunny places the little rabbit centre stage, with Flopsy characteristically dressed in her little jacket.
The Tailor of Gloucester

The Taylor of Gloucester coin features an iconic image from the book. One of the helpful little mice sits crossed legged on a reel or skein of 'twist', complete with miniature spectacles and newspaper.
Mrs Tittlemouse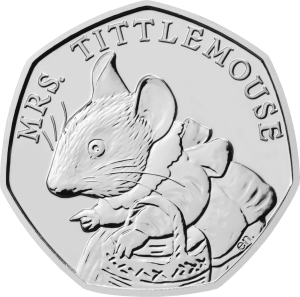 Mrs Tittlemouse carries the basket she uses to gather her dinner. The finest of details, like the mouse's tiny whiskers and beady eye, have been captured on the coin's small surface.
The reverse of all the 2018 Beatrix Potter 50p coins have been designed by Emma Noble who's designs have featured on a number of other Royal Mint coins.
So, if you're looking forward to collecting these fantastic new coins, let us know by leaving a comment on this blog.
---
Avoid the long wait to find this coin in your change by securing the Brilliant Uncirculated issue today for just £3.99 (+p&p) >>