This year we celebrate the Platinum Wedding Anniversary of Her Majesty the Queen and HRH the Duke of Edinburgh – an incredible 70 years of marriage and a FIRST in British royal history.
To celebrate this new milestone, The Royal Mint has issued a brand new UK £5 coin which is sure to be a key issue sought-after by collectors for years to come.
We have managed to secure 1,000 of these brand new UK Platinum Wedding Anniversary £5 Coins for a special UK £5 Coin Ballot.
By entering the ballot you've now got the chance to own this brand new £5 for its face value – just £5, POSTFREE.
Can't wait – click here to find out how to enter the ballot now.
About the 2017 UK Platinum Wedding Anniversary £5 Coin
Artist John Bergdahl who created the reverse of this special coin explained about the relevance of the equestrian imagery:
"The use of mounted figures has long been a traditional way to mark important royal occasions. Both The Queen and The Duke of Edinburgh have a love of horses but it seems they rarely rode together, Prince Philip being mainly involved in polo and Her Majesty hacking for pleasure."
"I therefore chose to depict them at the Trooping the Colour. The Queen is riding her favourite horse Burmese and appears very serene, while Prince Philip's horse is seen pulling to one side and about to kick over the traces, a reflection perhaps of their different natures."
The obverse features a special portrait of the couple by sculptor Etienne Millner.
Speaking about the design, he said, "I am hoping to portray The Queen not only as monarch but as a wife, mother and grandmother."
The History of the £5 Coin
Traditionally, major British events were celebrated with commemorative crowns, which had a face value of 25p, or 5 shillings prior to decimalisation in February 1971. But in 1990 the face value was increased to £5 to give the coin a value consistent with its weight and size.
The first ever £5 coin was released to celebrate The Queen Mother's 90th Birthday, with other popular issues including The Queen and Prince Philip's 50th Golden Wedding in 1997, The Diana Princess of Wales Memorial Crown in 1999 and the 200th anniversary of the Battle of Trafalgar in 2005.
The Ballot opens today (2nd October) and will close at 5pm on Monday 16th October.
---
Your way to own the UK's new £5 coin for just £5
But remember, with only 1000 of these coins available in the ballot you'll need to register now for your chance to own the Platinum Wedding Anniversary £5 Coin.
Click here to find out how you can own the 2017 UK Platinum Wedding £5 for its face value.
You may have noticed we've been talking about £5 coins a lot over the past few weeks and lots of collectors have been asking how rare their £5 coins are.
The £5 coin was first issued in 1990 as a replacement for the commemorative crown with a face value of 25p. They are usually reserved to commemorate significant British anniversaries and are a favourite among collectors as they are not intended for general circulation.
Using current Royal Mint figures we have put together three graphs where you can see just how rare your commemorative crown is, from the 1972 Silver Wedding Crown to the Brilliant Uncirculated Coronation £5 in 2013.
The differences in the mintage figures really are remarkable. Take a look below and see just how rare your £5 coin actually is.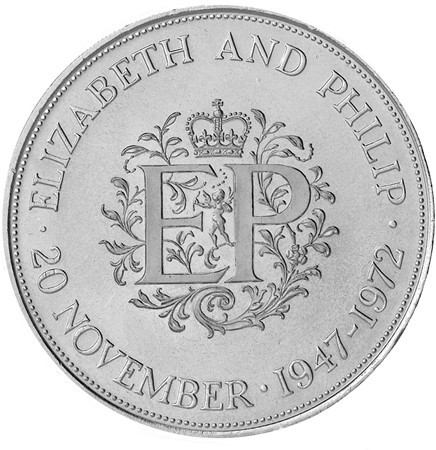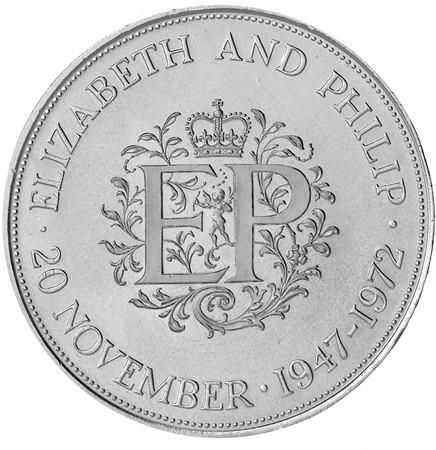 The first crown ever to be issued was the 1972 Silver Wedding Coin and incidentally this is the rarest 25p UK coin from the Royal Mint with a mintage of 7,452,100. This 1972 crown was the first British coin to have a face value of 25 pence; previous crowns had been Five Shillings face value. Also, for the first time in modern times, the obverse did not incorporate a date, but merely bore the Queen's name and titles surrounding her portrait.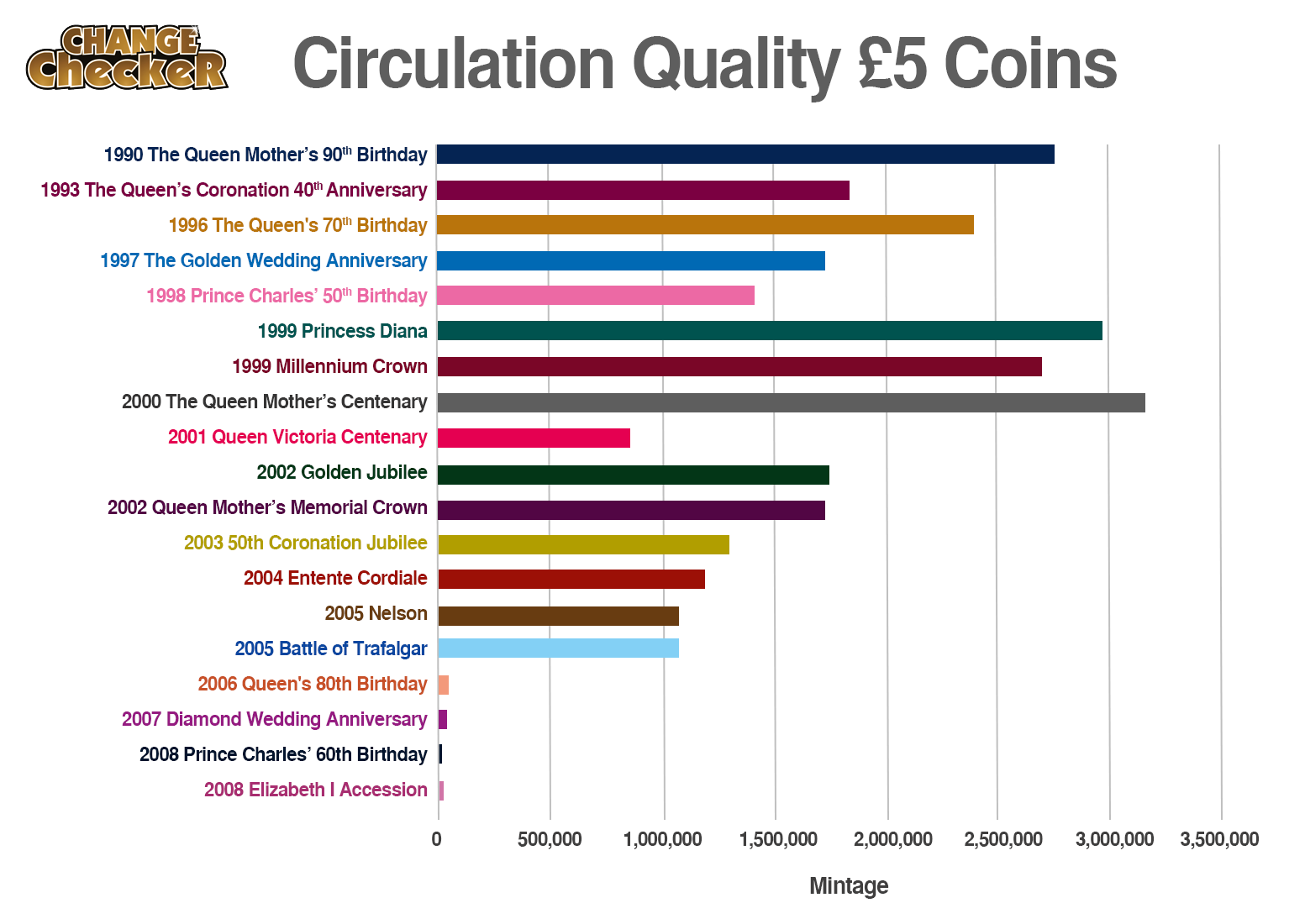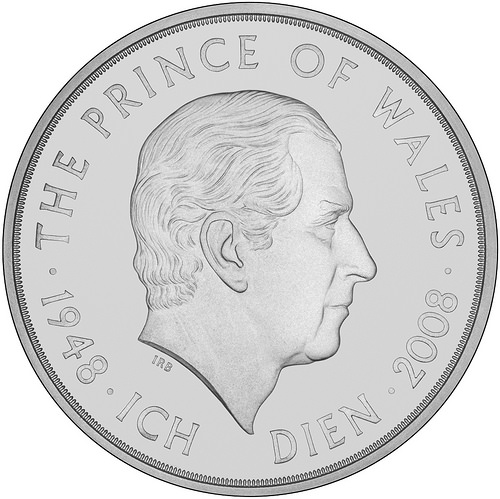 The £5 coin with the lowest mintage in the history of UK £5 coins, is the circulated 2008 Prince Charles 60th Birthday £5 coin. Just 14,088 circulated quality coins were struck by the Royal Mint in 2008 to mark the 60th birthday of Prince Charles. The coins inscription ICH DIEN means 'I serve' and is taken from the Badge of the Prince of Wales.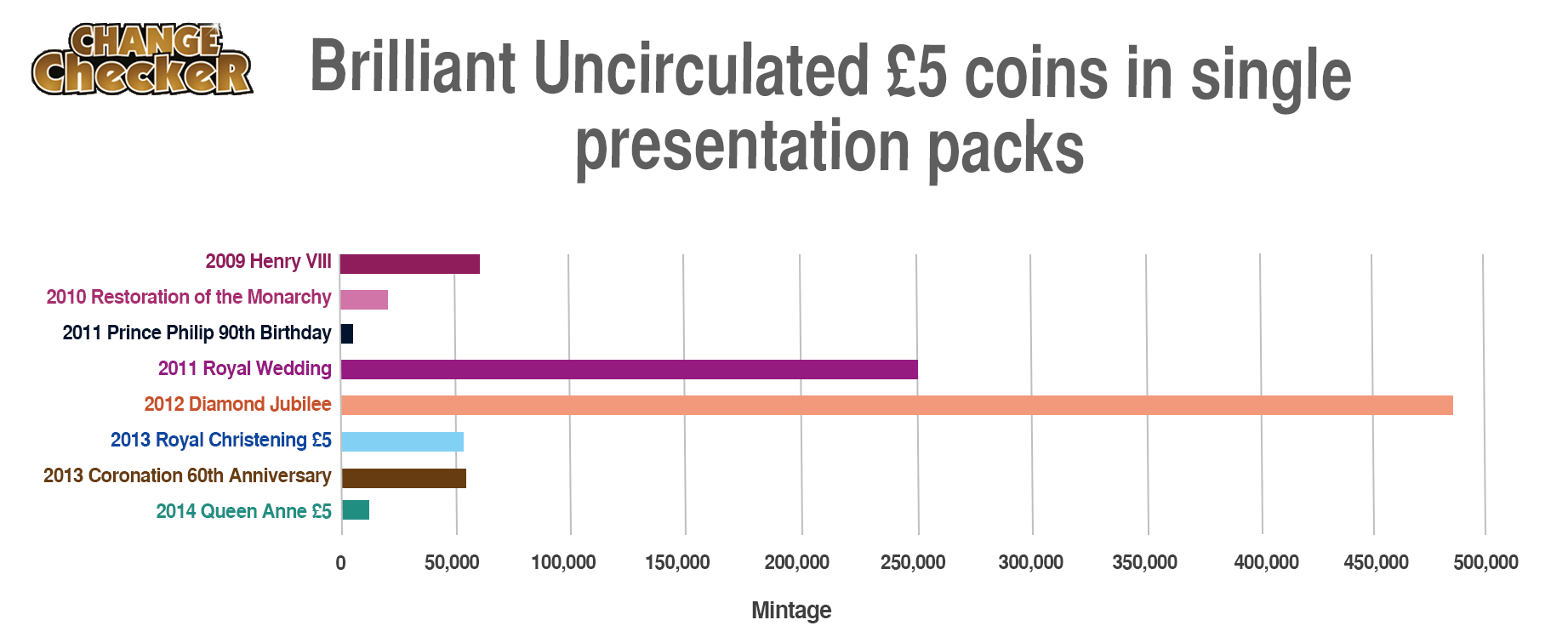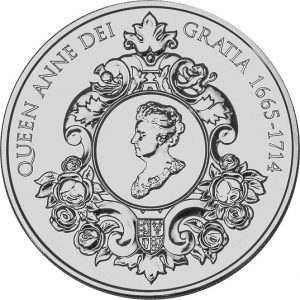 Out of the Brilliant Uncirculated versions of £5 coins, the 2014 Queen Anne £5 is the rarest. This coin has a mintage of just 12,181 and was struck to mark the 300th anniversary since the death of Queen Anne.The design bears an elegant portrait of Queen Anne, styled by Mark Richards FRBS as an eighteenth-century miniature.
How many of these £5 coins do you have in your collection? Do you own one of the rarest £5 coins? Let us know via Facebook, Twitter or leave a comment below!
---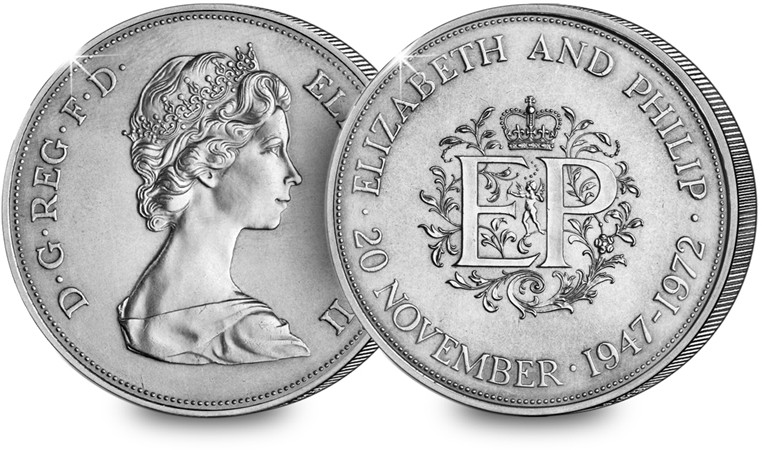 The UK's VERY FIRST Decimal Crown
One of the most regular questions we get at Change Checker is: "I have a Benjamin Britten 50p – how much is it worth?".
There's no doubt that the Britten 50p was somewhat overlooked when it was first released and it is amongst the slightly more scarce coins in circulation.
If you want a good brilliant uncirculated version of it for your collection, you might expect to pay up to £10 – maybe even a little more. If you want a normal circulation quality coin – I would hold on. It will eventually turn up in your change for 50p.
The answer seems reasonable but the enquirer is disappointed. Very disappointed.
Why?
Well the answer is that they have just seen the exact same coin listed on eBay for over £800.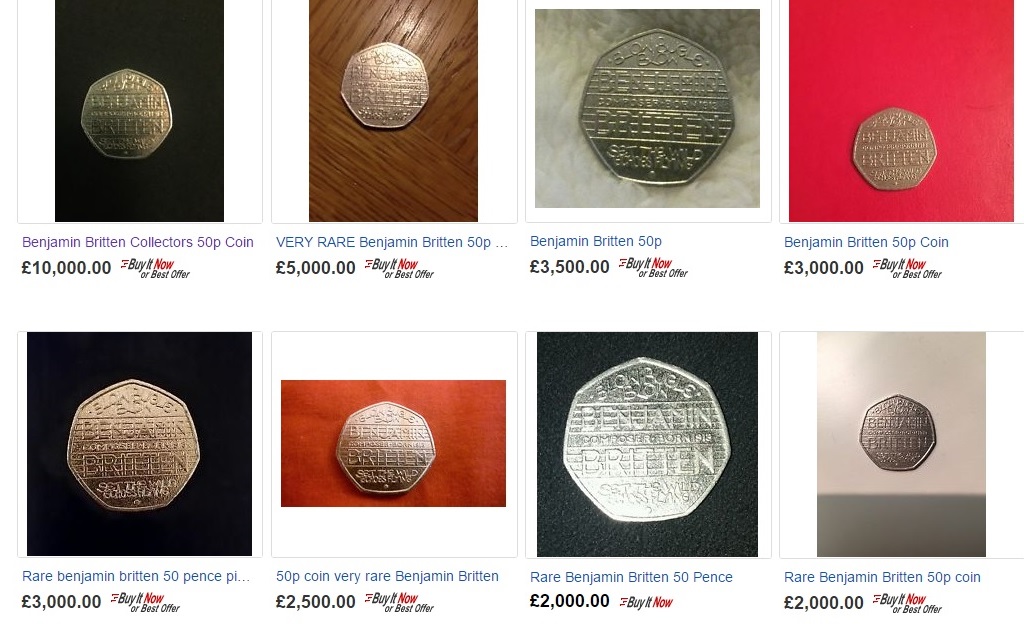 How can this be so?
Sadly, the answer is that eBay is not always a fair indicator of value. Anyone can list anything. So if you have a slightly unusual coin – like the Benjamin Britten 50p – list it on eBay for an outrageous price. Once in a while a naive customer will pay the price – however…
The seller's profit – £799.50.
It's not just Benjamin Britten – there are others… including the 2006 Brunel £2, and the 2014 Trinity House £2.
So "Buyer Beware". If you want a circulating quality coin, keep your eyes peeled or try swapping with www.changechecker.org. If you want a mint condition coin be prepared to pay a premium but BUYER BEWARE.
Remember – even the rarest of all circulating 50p coins – 1992/93 EU Presidency – was sold by Change Checker for just £20.
Change Checking is fun. Make sure it stays that way!
---
Missing any 50ps from your collection?