Posts Tagged 'numismatics'
The Royal Mint has today released a brand new UK £5 coin that celebrates the 250th Anniversary of the founding of the Royal Academy of Arts.
The coin is available as a Silver Proof UK coin as standard, but The Royal Mint have also made another version. This version has been struck to base metal specifications and has initially been made exclusive to Change Checkers.
The reverse of this £5 has been designed by architect Sir David Chipperfield RA, and features the mid-19th century frontage of the famous Burlington House of the Royal Academy, with ornate sculptures on the roof.
What's more, a mintage of just 12,000 has been set, making this the rarest base metal UK £5 coin ever!
The other £5 coins that make up the top 3 are The Queen Anne £5 coin that commemorates the 300th Anniversary of the death of Queen Anne – the first queen of Great Britain who left behind political stability and prosperity. Just 12,181 of these coins were struck in Brilliant Uncirculated presentation packs which made it the rarest UK £5 coin ever…until now!
The Prince Philip £5 coin, the third rarest with a mintage of 18,730, is extremely sought after by collectors and is virtually impossible to get hold of on the secondary market. In fact, sold listings on eBay show that the Prince Philip £5 coin regularly fetches in excess of £50!
Remember, when it comes to collecting, there is one fact which is always inevitable –the rarest coins are always in highest demand.
The Royal Academy of Arts
Founded through a personal act of King George III on 10 December 1768, The Royal Academy of Arts (RA) is an art institution based in Burlington House on Piccadilly in London.
It has a unique position as an independent, privately funded institution led by eminent artists and architects; its purpose is to promote the creation, enjoyment and appreciation of the visual arts through exhibitions, education and debate.
The Royal Academy does not receive financial support from the state or the Crown. Its income is from exhibitions, trust and endowment funds, receipts from its trading activities, and from the subscriptions of its Friends and corporate members.
It also gains funds by sponsorship from commercial and industrial companies, in which the Academy was one of the pioneers.
---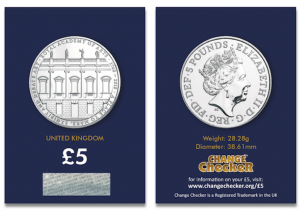 This brand new £5 has been struck to a Brilliant Uncirculated quality and has initially been made exclusively available to Change Checkers.
What's more, an edition limit of just 12,000 has been set, making this the rarest base metal UK £5 coin ever!
Last year we reported on the 'Dual-dated £1 coin error' where the dates on the obverse and reverse were different, one reading 2016 and the other 2017.
Now another £1 coin 'error' has been discovered and this one is very interesting indeed! It would appear that a 12-sided £1 coin die has been struck on an old round £1 coin blank.
In the past week alone, we've seen 3 examples of this 'error' coin.
The first was from a Change Checker from Burnham-on-Sea who told us that they'd listed the coin on eBay. After receiving 22 bids, the coin sold for £205!
Another coin is being sold at an auction in London on Wednesday 21st February. The auctioneers, 'Timeline', who are based in Berkeley Square, describe the coin as an "exceptional modern rarity" and go on to say "…the coin is sure to attract much attention when it crosses the block later this year".
The third report we have received was this morning from another Change Checker. Our advice to anybody who believes they have found this coin, or any other 'error' coins, would be to send the coin off to The Royal Mint Museum who offer a free verification service.
They will send the coin back to you with confirmation of their findings, which can take a few weeks depending on demand for the service. Here is the address:
Dr Kevin Clancy, Director of the Museum, The Royal Mint Museum, Llantrisant, Pontyclun, CF72 8YT
As yet, we have not seen proof that these coins have been verified by The Mint, so whilst they look genuine we will keep an open mind for the time being.
As usual, if you think you have found one of these coins or any other interesting 'errors', we'd love to hear from you.
Britannia has a long standing history with British coinage. Having first appeared on a 1672 Farthing during the reign of Charles II, she subsequently featured on a British coin in one way or another for more than 300 years. In 2008 she was surprisingly dropped from the 50 pence piece despite a Daily Mail campaign to save her.
After a short absence, in February 2015 it was announced that Britannia would be making a triumphant return to British circulating coins. Antony Dufort's modern interpretation of Britannia was to feature on Britain's highest denomination coin, the £2, replacing the "technology" design which had featured on the coin since 1997.
It was a very popular move from The Royal Mint, even the then Prime Minister David Cameron said: "It is great to see Britannia's welcome return to our currency. Britannia is an enduring symbol of our national identity, ideal to help reinforce the sense of shared purpose and history for Britons."
However, it wasn't until 2016 when The Mint released the mintage figures for the 2015 coins that the real surprise was unveiled.
Only 650,000 of the 2015 date Britannia £2 coins had been stuck for circulation, making it one of the most scarce UK £2 coins ever! So scarce in fact that there were fewer of this coin than the England and the Scotland coins from the famous 2002 Commonwealth Games series.
The astonishing fact that Britannia had appeared on a circulating British coin in one way or another in an unbroken cycle between 1672 and 2008 was enough to ensure this £2 would be a favourite with collectors. The announcement of such a low mintage figure then created somewhat of a collecting frenzy!
The 2015 Britannia coin remains highly sought after by collectors.
---
The UK 2015 Britannia £2 Coin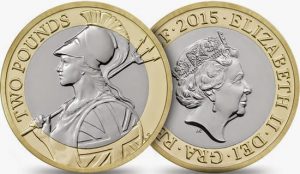 This first-year 2015 £2 Britannia is already one of the most-scarce circulating £2 coins ever issued with just 650,000 coins passing through banks and cash centres.
That places it third equal in the all-time low mintage charts!