This year The Royal Mint revealed a series of brand new base metal UK £5 coins featuring an intriguing range of creatures called the 'Queen's Beasts'.
The release soon captured collector's attention as the use of a bullion coin design on a base metal coin was unprecedented.
However, the choice of designs is equally fascinating and I decided to explore the history of these beasts and find out exactly why they were chosen to feature on our new £5 coins.
Why "The Queen's Beasts"?
Over 400 years ago Henry VIII commissioned the sculpting of 10 heraldic animal statues. They were produced to represent the ancestry of King Henry VIII and his third wife Jane Seymour. These became known as "The King's Beasts" and can still be seen to this day, guarding the main entrance to Hampton Court Palace.
In 1952, in preparation for the coronation of Queen Elizabeth II, sculptor Sir James Woodford was tasked to create ten new statues, similar to "The King's Beasts" but more suited to the Queen. Woodford was instructed not to produce exact replicas to those at Hampton Court Palace as some of them would have had little connection with Her Majesty's own family or ancestry.
As the Queen arrived for her coronation at Westminster Abbey, she was greeted by 10 six-foot tall beasts each representing a different part of her genealogy and thus "The Queen's Beasts" were born.
The 10 beasts were made up of 'The Lion of England', 'The White Greyhound of Richmond', 'The Yale of Beaufort', 'The Red Dragon of Wales', 'The White Horse of Hanover', 'The White Lion of Mortimer', 'The Unicorn of Scotland', 'The Griffin of Edward III', 'The Black Bull of Clarence' and 'The Falcon of the Plantagenets'.
After the coronation, the beasts were offered to Canada as a gift. The Canadian government accepted and the beasts can still be seen today on display in the Canadian Museum of History.
The Queen's Beasts in modern culture
Still to this day, the Queen's Beasts play a hugely important part in British culture, in particular The Lion of England and The Unicorn of Scotland.
For example, they feature in the logos of some of our country's most famous and important institutions, most notably The Royal Arms, 10 Downing Street and Buckingham Palace.
Now that you know about the history of these heraldic creatures, take a look around and you'll be surprised how often you see them being used in everyday life.
---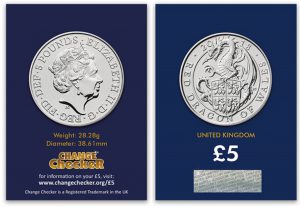 This 2018 £5 is the highly anticipated third release in this series, and features a design of the fierce Red Dragon of Wales, by well-known designer Jody Clark.
The 2018 Red Dragon of Wales £5 coin has been struck to a superior Brilliant Uncirculated condition, ensuring it is perfect for you to add to your collection. It will also come protectively encapsulated in official Change Checker packaging to preserve for generations to come.
ENTRIES TO THE 'BRONZE 20P' DRAW ARE NOW CLOSED
We love to hear when Change Checkers make a great coin discovery. We're often contacted about mis-strikes which are interesting oddities but what really excites us are 'error' coins.
Genuine 'error' coins, especially those verified by The Royal Mint, are VERY rare and finding one is a goal for many change collectors.
So imagine our excitement when somebody contacted us after finding one of the rarest 'error' coins yet!
The 'Bronze 20p'
Earlier this year, we were contacted by a collector named David Crosier who informed us he'd found a very rare 'error' coin.
A collector for over 50 years, David told us how he'd often look out for mis-strikes and 'mules' but there was something special about this particular coin. Initially he presumed the coin was plated but decided to send it to The Royal Mint to be certain.
After examination by x-ray fluorescence spectrometry, the coin was confirmed by The Royal Mint as an extremely sought-after minting 'error'.
Somehow a 1p 'blank' found its way into the presses and a 20p was accidentally struck onto it.
Errors like this are extremely rare, in fact so rare we've never heard of another 'Bronze 20p', but The Royal Mint verified the authenticity of the coin with a letter and so here at Change Checker we knew this was an opportunity not to be missed.
Now the great news… we want to give away the amazing 'Bronze 20p' to one lucky Change Checker!
And what's more, you won't just win the 'Bronze 20p', the coin is set in a specially designed presentation box alongside a Brilliant Uncirculated 1p and a Brilliant Uncirculated 20p coin from the same year, beautifully highlighting the minting error.
Your chance to win the coin
We'll be selecting a lucky Change Checker to win this coin. If you're already registered then we'll automatically include you in the draw.
To register your free account, all you need to do is enter your email address and choose a password.
ENTRIES FOR THE 'BRONZE 20P' DRAW ARE NOW CLOSED
Full Terms and Conditions can be found below.
Good luck!
---
Terms & Conditions
All registered members of changechecker.org at midnight on 7th December 2017 will be automatically entered into the prize draw. No purchase is necessary to register.
The draw will take place on 11th December 2017 and the winner will be notified on that day by email to their registered changechecker.org email address.
The winner will receive the "Bronze 20p". There is no cash alternative.
Participants agree to meet reasonable requests to assist publicity.
The prize draw is promoted by The Westminster Collection / Change Checker, trading divisions of 288 Group Ltd.
Employees of 288 Group and their families are not eligible to enter.
Coins from Crown dependencies and overseas British territories can sometimes make an unexpected appearance in our change.
They are identical in size, shape and weight to UK denominations which means they often find their way into tills and vending machines undetected.
Finding one in your change can be an annoyance on one hand as technically the coins are not legal tender in the UK. On the other hand, from a collecting point of view, new and interesting designs are always a bonus!
Here's a look at our top 5 favourite coin designs that have been issued by Crown dependencies and overseas British territories since decimalisation:
This beautiful 50p from Guernsey features two crossed freesia flowers with 'FIFTY PENCE' and the date at the top and '50' below the design.
The obverse features David Maklouf's portrait of Queen Elizabeth II with the lettering 'Bailiwick of Guernsey' above, and also a small Guernsey Coat of Arms to the left.
This addition on the obverse makes the Guernsey 50p stand out when compared to UK 50p coins.
This 50p has the pre-1997 specifications.
Guernsey Lily £1 Coin
The Guernsey Lily £1 features the island's Lily on the reverse, and the Guernsey Coat of Arms on the obverse.
This unusual obverse without the Queen's head makes this particular coin stand out amongst other £1 coins, and makes it sought after by collectors.
Along with the UK, Guernsey withdrew their round £1 coins from circulation in October 2017.
Isle of Man Tower of Refuge £2
The Tower of Refuge is an important landmark on the Isle of Man. It was built in 1832 upon the reef on orders of Sir William Hillary, founder of the Royal National Lifeboat Institution.
The impressive tower with birds flying above it features on the reverse of this Isle of Man £2 coin. The obverse carries a new effigy of Her Majesty Queen Elizabeth II by Jody Clark, this effigy being reserved for the Crown dependencies and Commonwealth countries.
Gibraltar Candytuft Flowers 50p
This 50p features the denomination surrounded by a crown of Gibraltar Candytuft flowers, known as 'Iberis Gibraltarica'.
Iberis Gibraltarica is the national flower of Gibraltar and is the symbol of the Upper Rock Nature Reserve which covers 40% of the country's land area. Gibraltar is the only place in Europe where it is found growing in the wild.
With a mintage of just 30,000 in 1988, this 50p is 7 times rarer than the UK's rarest 50p so is particularly scarce and sought after amongst collectors. This 50p has the pre-1997 specifications.
Jersey Resolute £1
The Resolute vessel was built in 1877 in Jersey by Thomas Le Huguet and was owned by Captain George Noel. The ship was used for trade before it was wrecked during a hurricane on 29th August 1905 at Friars Cove off Newfoundland.
The design depicts a two-mastered topsail schooner Resolute ship and was first issued into circulation in Jersey in 1994.
To ensure their currency would not be left vulnerable to counterfeiters, Jersey withdrew their round £1 coins from circulation in October 2017.
So have you come across any of these coin designs in your change or do you already collect coins from other countries? Let us know via Facebook, Twitter or Instagram or leave us a comment below.
With a much lower population than the UK, some of these coins that can be found in your change can be extremely rare, so it's worth keeping hold of them.
You can see the selection of coins from Crown dependencies and overseas British territories we have available here >>